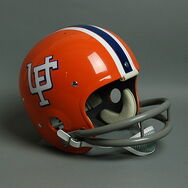 1971 Florida Gators
Head Coach: Doug Dickey (2nd season)
Stadium: Ben Hill Griffin Stadium, Gainesville, Florida
Record: 4-7 (1-6 SEC)
Previous: 1970
Next: 1972
Schedule/Results
Edit
Florida began its second year under Doug Dickey as the Super Sophs of '69 were now seniors. The start of the season did not go as planned as the Gators were 0-5 heading into their rivalry game with Florida State. Florida managed to defeat their instate foes and win their homecoming again against Maryland before falling to superior ranked opponents in Auburn and Georgia. After beating Kentucky, the Gators capped off the season with the infamous "Florida Flop" game.
Florida finished 4-7 overall and sixth in the SEC with a 1-6 record.
John Reaves broke Jim Plunkett's NCAA record for career passing yardage while earning first team All-American honors. Reaves broke the record in the season finale against Miami. Late in the game, the Gators defense performed the infamous "Florida Flop", in which most Gators defenders flopped to the ground to allow Miami to score. Reaves broke Plunkett's passing record on Florida's following offensive series.
Ad blocker interference detected!
Wikia is a free-to-use site that makes money from advertising. We have a modified experience for viewers using ad blockers

Wikia is not accessible if you've made further modifications. Remove the custom ad blocker rule(s) and the page will load as expected.