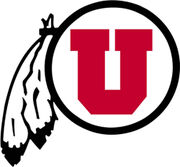 1977 Utah Utes
Head Coach: Wayne Howard (1st season)
Stadium: Rice Stadium, Salt Lake City, Utah
Record: 3-8 (2-5 WAC)
Previous: 1976
Next: 1978
Schedule/Results
Edit
(Ocala Star Banner, 8/23/1977): QB Pat Degnan, rated No. 2 in the nation early in 1976, quit the team. Degnan was injured in opener last yr against Rice and lost the job to Dan Hagemann. This year, he was running second to transfer Randy Gomez after spring practice. The reason cited was the failure of a knee injury to respond to treatment. Deganan, a transfer from Air Force, passed for 1621 yds as sophomore and 918 last year as substitute late in the year.
(The Deseret News, 12/1/77): QB Randy Gomez, who broke seven school passing and total offense records, was named team MVP and OT Steve Rudesill was named Most Inspirational by the players. The coaching staff voted DT Walt Kaufmann as team's Outstanding Defensive Player and OL Dave Blankenbaker and Dave Kasper were co-Outstanding Offensive Players.
Ad blocker interference detected!
Wikia is a free-to-use site that makes money from advertising. We have a modified experience for viewers using ad blockers

Wikia is not accessible if you've made further modifications. Remove the custom ad blocker rule(s) and the page will load as expected.