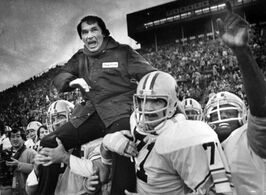 Pregame notes
Edit
Oregon (1-9), Oregon State (3-6-1)
Corvallis, Oregon
Willie Blasher's forearm to Steve Smith draws a personal foul in the first quarter that changes the game. Smith, down for two minutes, isn't the same player afterward, throwing three interceptions before taking a seat on the bench for Oregon State.
Oregon's freshman tailback Dwight Robertson scores three touchdowns in a seven-minute span.
Oregon State had seven turnovers.
1st Quarter
OSU: Wolford 35 yard field goal
ORE: Robertson 2 yard run (English kick)
ORE: Robertson 9 yard run (English kick)
2nd Quarter
ORE: Robertson 10 yard run (English kick)
3rd Quarter
ORE: English 32 yard field goal
4th Quarter
No Scoring
Final Score: Oregon 24, Oregon State 3
References
Edit
Palm Beach Post. 26 Nov 1978.