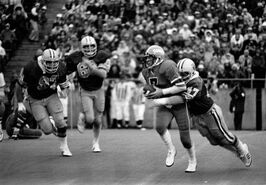 Reggie Ogburn ran for one score and passed for another as 5-5 Oregon controlled both sides of the line of scrimmage, rushing for 325 yards and holding 1-9 Oregon State to just 36 yards on the ground.
1st Quarter
OU: Ogburn 4 yard run (English kick), 8:42...14/69
OU: Jackson 35 yard run (English kick), :02...5/46
2nd Quarter
OU: Young 11 yard pass from Ogburn (English kick), :20...10/96
3rd Quarter
OU: Jollymour 38 yard field goal, :39...9/60
4th Quarter
OSU: Wafford 37 yard field goal, 12:34...4/16
Postgame notes
Edit
It secured Oregon's first winning season since 1970.
Craig Fertig's final game as Beavers' coach, finishing his career 0-4 versus the Ducks.