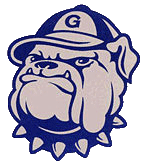 Head Coach: Kevin Kelly (4th season)
Stadium: Multi-Sport Field, Washington, DC
Record: 0-11 (0-6 Patriot League)
Previous: 2008
Next: 2010
Schedule/Results
Edit
The 2009 Georgetown Hoyas football team represented Georgetown University in the 2009 NCAA Division I FCS football season. The team was led by Kevin Kelly, in his 4th season as head coach. The Hoyas played their home games at Multi-Sport Field in Washington, DC. Georgetown failed to win a game, a first since 1885. However, they still filled their stadium past capacity for half their home games.
Ad blocker interference detected!
Wikia is a free-to-use site that makes money from advertising. We have a modified experience for viewers using ad blockers

Wikia is not accessible if you've made further modifications. Remove the custom ad blocker rule(s) and the page will load as expected.