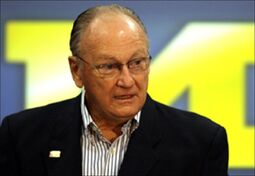 Bo Schembechler
Sport(s)
Football
Biographical details
Born
April 1, 1929

Place of birth

Barberton, Ohio
Died
November 17, 2006
(aged 77)

Place of death

Southfield, Michigan
Playing career
1948–1950
Miami (OH)
Position(s)
Tackle
Coaching career (HC unless noted)
1952
1954
1955
1956–1957
1958–1962
1963–1968
1969–1989
Ohio State (assistant)
Presbyterian (assistant)
Bowling Green (assistant)
Northwestern (assistant)
Ohio State (assistant)
Miami (OH)
Michigan
Administrative career (AD unless noted)
1988–1990
1990–1992
Michigan
Detroit Tigers (baseball) (president)
Head coaching record
Overall
234–65–8
Bowls
5–12
Statistics
College Football Data Warehouse
Accomplishments and honors
Championships
2 Mid-American (1965–1966)
13 Big Ten (1969, 1971–1974, 1976–1978, 1980, 1982, 1986, 1988–1989)
Awards
AFCA Coach of the Year (1969)
Walter Camp Coach of the Year (1969)
Bobby Dodd Coach of the Year Award (1977)
Sporting News College Football COY (1985)
George Munger Award (1989)
Amos Alonzo Stagg Award (1999)
MAC Coach of the Year (1965)
6x Big Ten COY (1972, 1976, 1980, 1982, 1985, 1989)

College Football Hall of Fame
Inducted in 1993 (profile)
Bo Schembechler (born April 17, 1929- died November 17,2006) was the Michigan Head Coach from 1969-1989. He is said to be the most winningest coaches in Michigan football history. his total career record is 194-48-5. He was 5-12 with bowl games.
Schembechler also served as the head football coach at Miami University (OH) from 1963 to 1968 and at the University of Michigan from 1969 to 1989, compiling a career record of 234–65–8. Only Joe Paterno and Tom Osborne have recorded 200 victories in fewer games as a coach in major college football. In his 21 seasons as the head coach of the Michigan Wolverines, Schembechler's teams amassed a record of 194–48–5 and won or shared 13 Big Ten Conference titles. Though his Michigan teams never won a national championship, in all but one season they finished ranked, and 16 times they placed in the final top ten of both major polls.
Schembechler played college football as a tackle at Miami University, where in 1949 and 1950 he was coached by Woody Hayes, for whom he served as an assistant coach at Ohio State University in 1952 and from 1958 to 1962. In his first ten years at Michigan, Schembechler's teams squared off in a fierce rivalry against Hayes's Buckeyes squads. During that stretch in the Michigan–Ohio State football rivalry, dubbed the "Ten-Year War," Hayes and Schembechler's teams won or shared the Big Ten Conference crown every season and usually each placed in the national rankings.
In 1988, Schembechler assumed the role of Athletic Director at Michigan, succeeding Don Canham, the man who hired him as football coach in 1969. Schembechler retired as head football coach after the 1989 season. His longtime assistants, Gary Moeller and Lloyd Carr, helmed the team for the next 18 years. Schembechler left the University of Michigan in 1990 to take a job as president of Major League Baseball's Detroit Tigers, which he held until 1992. He was inducted into the College Football Hall of Fame as a coach in 1993. During his later years, Schembechler remained in Southeast Michigan and hosted a sports radio show. He died in 2006 at the age of 77 on the eve of that year's Michigan–Ohio State football game], a historic #1 versus #2 showdown.
A consummate "coach's coach", Schembechler combined superb technical command of the game with a fiery disposition. Schembechler's Michigan teams were known for their fundamentally sound, physical, and fierce style of play. Under his watch, the Wolverines traditionally featured strong defense, dominating offensive lines, and a power-running attack. In the words of one commentator, Schembechler coached a "remorseless and punishing" brand of football. If he perceived a weakness in the opponent, his teams hammered at it time and time again. Though somewhat combative during games — he was prone to sideline outbursts — he was generally regarded by his peers as having great personal integrity.
Early life and career
Edit
Schembechler was born and raised in Barberton, OH, a suburb of Akron. His nickname "Bo" came from his sister's attempts to say "brother" when they were young children. Schembechler's father was a firefighter. One of Schembechler's seminal experiences was seeing his father refuse to accept a stolen copy of a civil-service exam—despite the fact that the other applicant was reported to have received a stolen copy himself. Schembechler's father took the exam without having received the answers, missed one more question than the other applicant, and did not receive the promotion he coveted. Schembechler often told the story, saying the experience taught him more about integrity than any lecture ever could have. Hard work and integrity were two themes of Schembechler's career.[1] Schembechler attended Miami University in Oxford, Ohio. He was a member of Sigma Alpha Epsilon fraternity.
Schembechler played football under two legendary, and completely different, coaches. Sid Gillman, his first coach at Miami, was an innovative offensive mind and one of the fathers of the modern passing game. His concepts helped to form the foundation for football's West Coast offense. Prior to Schembechler's last season, Gillman departed to become head coach at the University of Cincinnati. He was replaced by the renowned and fiery Woody Hayes, who could not have been more unlike Gillman. Hayes embraced the run, eschewed the pass, and demanded tough, physical play from his linemen. Rather than innovation, Hayes stressed repetition—he wanted his players to run each play flawlessly. Over the next forty years, Hayes' impact on his young protege was clearly evident. Schembechler's teams at Michigan were molded in the spirit of Hayes' Ohio State teams. Schembechler graduated from Miami in 1951 and earned his master's degree at Ohio State University in 1952 while working as a graduate assistant coach under Hayes, who had become OSU's head coach.
After a tour of duty in the United States Army, Schembechler served as an assistant at Presbyterian College in 1954, followed by a year as freshman coach at Bowling Green. When Schembechler's former college teammate Ara Parseghian, Hayes' successor at Miami University, was hired as head coach at Northwestern in 1956, Schembechler joined him and spent the next two seasons there as a defensive assistant. In 1958, Hayes hired Schembechler to serve again on his staff at Ohio State. Schembechler spent five more years at Ohio State and became one of Hayes' most trusted assistants. During that time the two cemented their lifelong friendship. Schembechler was fond of recounting the number of times that Hayes "fired" him, only to send a graduate assistant to fetch him after tempers had calmed. Schembechler, Hayes, Parseghian, and several of their "Cradle of Coaches" compatriots are the subject of the book Fields of Honor, written by coach John Pont's niece, Sally Pont.
University of Michigan
Edit
Schembechler became Michigan's 15th head coach after the 1968 season, succeeding Bump Elliott. He was hired in 15 minutes. It took athletic director Don Canham that long "to sense the intensity, the enthusiasm of a man destined to be a winner."[2] Besides a stellar record at Miami he also "brought a unique five-man angle defense and a guarantee that he would make it work within five years."[3] At Michigan, Schembechler became one of college football's greatest coaches. He won a school-record 194 games, lost only 48, and tied five for a winning percentage of .796. His teams never posted a losing season. In Big Ten Conference play, he had a record of 143–24–3 for a winning percentage of .850. His Michigan teams won or shared 13 Big Ten titles and made 10 Rose Bowl appearances. His 96–16–3 record during the 1970s was the best of any Division I coach. Schembechler led the Wolverines to a total of 17 bowl games, going 5–12 in 21 years, placing him ninth in all-time bowl appearances. He was voted national coach of the year in 1969 by both the American Football Coaches Association and the Football Writers Association of America.
Schembechler's greatest victory came in his first season, when he led the Wolverines to an upset victory over a standout Ohio State team coached by his old mentor, Woody Hayes. Hayes' Buckeyes dominated the series during the late 1950s and for most of the 1960s as Michigan fielded a number of uncharacteristically mediocre teams. In 1968, the year before Schembechler became head coach, Hayes made it clear how far Michigan had fallen behind its traditional rival, when the Wolverines lost 50–14. At the end of the game, Hayes decided to pursue a two-point conversion rather than a simple kick for an extra point. Legend has it that when Hayes was asked why he "went for two," he responded "Because I couldn't go for three." The embarrassment of that outcome set the stage for the 1969 rematch.
In 1969, the Buckeyes entered the game as defending national champions and 17-point favorites with the top ranking in the country and a 22-game winning streak. Hayes' 1969 squad included five first-team All-Americans. But Schembechler's 7–2 Wolverines dominated a team Hayes later considered his best, beating Ohio State 24–12. In a single afternoon, Schembechler and his charges resurrected Michigan's football tradition and returned the program among college football's elite. Both Schembechler and Hayes, who remained personal friends until Hayes' death in 1987, agreed it was Hayes' best team and Schembechler's biggest victory. Michigan's win over Ohio State in 1969 is considered to be one of the greatest upsets in college football history and the most significant win for a Michigan team ever.[4]
The Wolverines and Buckeyes proceeded to engage in a fierce "Ten Year War" that elevated an already storied Michigan – Ohio State rivalry into one of college football's greatest annual grudge matches. For ten years the two dominated the Big 10, splitting ten conference titles between them and finishing second eight times. They were so dominant that the Big Ten earned a nickname of "Big Two, Little Eight" during that era. After a decade of memorable on-field stratagems, sideline antics, and locker room psychological ploys, Schembechler held a 5–4–1 advantage.
Schembechler's tenure at Michigan was also notable for the renewal of Michigan's rivalry with Notre Dame. Despite the fact that the two schools are located within 200 miles of one another and ranked first/second in both total wins and winning percentage in college football, they had not played each other since the 1940s. The resurrection of the rivalry was facilitated by Schembechler's close friendship with Ara Parshegian, Notre Dame's coach at the time of Bo's arrival. Schembechler, however, never had a chance to coach against his former mentor, as scheduling commitments prevented the series from resuming until 1978, after Parshegian had left Notre Dame and was succeeded by Dan Devine.
Despite Schembechler's success during the regular season, he was less successful in bowl games. His overall record was 5–12, which includes a 2–8 record in the Rose Bowl. The Wolverines lost the 1970 Rose Bowl, their first bowl game under Schembechler, while he was hospitalized after suffering a heart attack on the previous day. Schembechler's Michigan teams went on to lose their next six bowl games before winning five of their last ten.
Following the 1980 season, Schembechler gained the first of his two Rose Bowl victories by beating the University of Washington. The 1980 Michigan team featured the talents of Anthony Carter, a three-time consensus All-American. In 1980 Michigan stumbled early in the season, losing two of its first three games. As a result of the two losses, Michigan was eliminated from consideration for college football's national championship, finishing 4th in the end-of-season polls. But Schembechler maintained that his first Rose Bowl champions were the country's best team by season's end. They did not allow a touchdown over the course of their last five games, giving up nine points total.
Perhaps spurred by Carter's success, Schembechler's teams began to pass more during the 1980s, but Schembechler never completely shed his image as a run-first offensive coach. At the same time, his teams continued to enjoy consistent success throughout the decade. Jim Harbaugh, a future NFL All-Pro quarterback and current head coach of the San Francisco 49ers, led Schembechler's 1985 team to a 10–1–1 record, a 27–23 win over Nebraska in the Fiesta Bowl, and a #2 ranking in the final polls, the highest finish ever for one of Schembechler's teams. Schembechler's last two teams went to the Rose Bowl, splitting two games with USC.
Schembechler retired from coaching after the Rose Bowl in 1990. He decided to retire at the relatively young age of 60 because of his history of heart problems and was succeeded by Michigan's offensive coordinator Gary Moeller, whom he handpicked.
Schembechler was also the athletic director at Michigan from 1988 until early 1990. Just before the 1989 NCAA basketball tournament, men's basketball head coach Bill Frieder announced that he was taking the head coach position at Arizona State University, effective at the end of the season. Insisting on those in the program being dedicated to the school, Schembechler immediately fired Frieder and appointed assistant basketball coach Steve Fisher as interim head coach, while famously announcing that "a Michigan man is going to coach a Michigan team" in the NCAA tournament. Ironically, Frieder was an alumnus of Michigan, while Fisher was not. Fisher led Michigan to six straight victories in the tournament and the 1989 national championship. Schembechler witnessed the championship game on his 60th birthday.
"Those Who Stay Will Be Champions"
Edit
Schembechler began his tenure as head coach at Michigan with a rallying cry to his players: "Those who stay will be champions!" This slogan foreshadowed the challenges Michigan football players would endure from the dramatic culture change initiated by Schembechler, who emphasized toughness and introduced practices and conditioning far more rigorous than any the players had been exposed to before. His first training camp in 1969 saw around 140 players enter but a mere 75 emerging from the grueling camp and choosing to embrace Schembechler's system. Schembechler's subsequent successes and legacy of propelling the Michigan football program to further national prominence immortalized his promise to his players after accepting the head coaching position at Michigan. Every Michigan football player who played for Bo Schembechler and stayed at Michigan for four years left Michigan with at least one Big Ten championship ring. Furthermore, not once did any Michigan player under Bo endure a losing season during his tenure. As such, "Those Who Stay Will Be Champions" remains a beloved team slogan for the Michigan Wolverines and has been immortalized into the tradition and mythology of Michigan football.
Offer from Texas A&M
Edit
On January 15, 1982, Texas A&M offered Schembechler nearly $3 million for 10 years—the richest contract in the history of college athletics—to become the school's football coach and athletic director. Schembechler turned it down. "Frankly, I've come to the conclusion that there are things more important in this world than money," Schembechler said. "For that reason, I've decided to stay at Michigan."[5]
Health problems and Death
Edit
Schembechler had a long history of heart trouble. On December 31, 1969, the eve of his first Rose Bowl appearance, he suffered a heart attack, and had another in 1987 while he happened to be at University of Michigan Medical Center for tests.[6] He had two quadruple heart bypass operations, the first in 1976 and the second following his second heart attack.
During a taping of the WXYZ-TV program Big Ten Ticket in late October 2006, Schembechler collapsed and was taken to the hospital. Following the episode, he had a heart pacemaker implanted into his chest to regulate his heartbeat. As late as a week before his death, he had stated his doctors were still adjusting the device, which covered about half his chest.[7]
On Thursday, November 16, 2006, and though he was not feeling well, Schembechler attended the funeral of his close friend and 1971 quarterback, Tom Slade. That night, Bo delivered his traditional Thursday night pep talk before the Ohio State game. According to The Detroit News: "Bo's speech was not about Ohio State, the Big Ten title or a national championship. The whole speech was about Tom Slade and how, if the players worked hard, listened to their coaches and stuck together as teammates, one day they might be as good a Michigan man as Slade. That was the goal at Michigan, not national championships."[8] Schembechler finished by exhorting them to remember "the team, the team, the team!"
The next day, on November 17, 2006, Schembechler collapsed in a bathroom at WXYZ-TV just prior to the taping of Big Ten Ticket around 9:15 AM.[9] He was taken to Providence Hospital in Southfield, Michigan where he was pronounced dead at 11:43 AM. At a press conference a few hours after his death, it was reported by his doctor, Dr. Kim Eagle of the University of Michigan Health System, that his death was from the terminal stage of heart disease, where the heart muscle itself does not respond to the pacemaker, a common cause of death for persons afflicted with severe heart disease.
Schembechler died the day before one of the biggest games in the history of the Michigan – Ohio State football rivalry. He was not planning to attend the November 18 game in Columbus, because his doctors had advised him that attending the game might be too much stress for his heart. Instead, Bo and his wife, Cathy, had packed the car and had planned to drive to suburban Dayton, Ohio to watch the game with his former Miami teammate and best friend, Bill Gunlock.
The University's Board of Regents approved a plan for the renovation and expansion of Michigan Stadium on the day of Schembechler's death.
On November 21, 2006, the University of Michigan held a memorial service for Schembechler in Michigan Stadium. Approximately 20,000 fans, ex-players and coaches including former Schembechler player and assistant coach and current LSU head football coach Les Miles turned out during the middle of a work-day to pay their respects to Schembechler and to celebrate his life. Former Ohio State head coaches Earle Bruce and John Cooper attended, along with then current head coach Jim Tressel and his entire staff.
Before his death, Schembechler had agreed to be an honorary pallbearer for former Michigan Wolverine and University of Michigan alumnus President Gerald Ford. . Ford, himself an All-American center at Michigan in the 1930s, died on December 26, 2006. A pew inside Washington National Cathedral was draped with a UM stadium blanket in Schembechler's memory. Air Force One flew low over Michigan Stadium as Ford's casket was en route from Washington, DC to Grand Rapids. \ \
References
Edit
Ad blocker interference detected!
Wikia is a free-to-use site that makes money from advertising. We have a modified experience for viewers using ad blockers

Wikia is not accessible if you've made further modifications. Remove the custom ad blocker rule(s) and the page will load as expected.