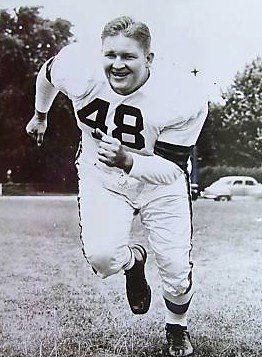 Forrest Porter "Chubby" Grigg, Jr. (January 10, 1926 – October 10, 1983) was an American football offensive and defensive tackle in the National Football League. In the All-American Football Conference (AAFC) Grigg played for the Chicago Rockets, Buffalo Bisons, the Cleveland Browns (1948-1950), as well as its' first two saasons in the NFL (1950–1951), and the NFL's original Dallas Texans (1952) franchise. Listed at a hefty 6'2" and 330 pounds when he played in Chicago, he was considered one of the first 300-pound players in pro football. For much of his career, particularly while with the Browns, he usually hovered around 285 pounds.[1] At the Univeristy of Tulsa was also a member of the 1946 team which lost to the Georgia Bulldogs in in the 1946 Oil Bowl, 20-6. [2]
After his playing career ended, he owned and operated a successful restuarant in Ore City, Texas. In 1977, tragically, Grigg was arranged, indicted and tried of involuntary manslaughter for the death of a 22 year old son, Michael in 1976, who had been struggling with substance abuse issues; accquited of the manslaughter charge, he was sentenced to five years probation for the incident in which his son was shot to death while asleep in his parents home by Grigg. [3][4]
Grigg died in Ore City on October 10, 1983.[5]
References
Edit
External links
Edit