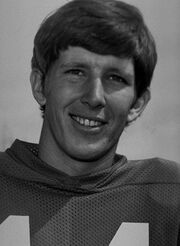 Gifford Nielsen was an All-American quarterback for Brigham Young University from 1975-77. He was inducted into the College Football Hall of Fame in 1994.
Accomplishments and Awards
Edit
His nicknames included "the Giffer" and "the Mormon Rifle".
External Links
Edit
Ad blocker interference detected!
Wikia is a free-to-use site that makes money from advertising. We have a modified experience for viewers using ad blockers

Wikia is not accessible if you've made further modifications. Remove the custom ad blocker rule(s) and the page will load as expected.