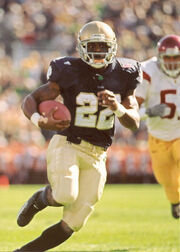 Julius Jones was a running back at Notre Dame from 1999-2003. He was drafted in the 2003 NFL Draft by the Dallas Cowboys. He was selected as the 11th pick, in the 2nd round, and the overall 43rd pick.
External Links
Edit
Ad blocker interference detected!
Wikia is a free-to-use site that makes money from advertising. We have a modified experience for viewers using ad blockers

Wikia is not accessible if you've made further modifications. Remove the custom ad blocker rule(s) and the page will load as expected.