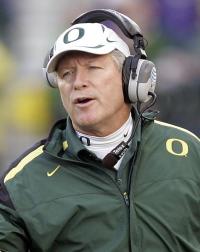 Robert Michael "Mike" Bellotti (born December 21, 1950) is a college football analyst for ESPN and ABC.[1] A native of California, he was hired as football offensive coordinator by the University of Oregon in 1989. From 1995 to 2009, he was the head coach of the Oregon Ducks football team. In July 2009, after 14 years as head coach during which time he became the Ducks's winningest head coach, he resigned to become the school's athletic director; he resigned that post to become an ESPN analyst in March 2010.
Ad blocker interference detected!
Wikia is a free-to-use site that makes money from advertising. We have a modified experience for viewers using ad blockers

Wikia is not accessible if you've made further modifications. Remove the custom ad blocker rule(s) and the page will load as expected.