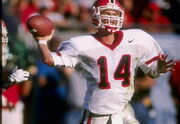 Robert Michael Bobo (born April 9, 1974) is an American college football coach and is the head coach of the Colorado State Rams, a position he was hired for on December 23, 2014. Bobo became the second consecutive SEC offensive coordinator hired to coach Colorado state, following Jim McElwain, who left the Rams to take the head coaching job with the Florida Gators.
Bobo played quarterback for the Georgia Bulldogs and was an assistant with the team, serving as offensive coordinator and quarterbacks coach before taking the Colorado State job.
Ad blocker interference detected!
Wikia is a free-to-use site that makes money from advertising. We have a modified experience for viewers using ad blockers

Wikia is not accessible if you've made further modifications. Remove the custom ad blocker rule(s) and the page will load as expected.