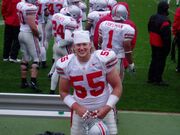 No. 74 New York Jets
Center
Personal information
Date of birth: January 13, 1984 (1984-01-13) (age 26)
Place of birth: Centerville, Ohio
Height: 6 ft 4 in (1.93 m)
Weight: 305 lb (138 kg)
Career information
College: Ohio State
NFL Draft: 2006 / Round: 1 / Pick: 29
Debuted in 2006 for the New York Jets
Career history
Career highlights and awards
Career NFL statistics as of Week 4, 2010
Games played
68
Games started
68
Stats at NFL.com
Nick Mangold (born January 13, 1984 in Centerville, Ohio) is an American football center with the New York Jets, drafted 29th overall in the 2006 NFL Draft out of Ohio State University.
High school years
Edit
Mangold attended Archbishop Alter High School in Kettering, Ohio, where he was a letterman in football, wrestling, and track & field. In football, he was a three-year starter on both offense and defense and as a senior, he garnered All-Ohio honors. He played in the 2002 U.S. Army All-American Bowl.
College career
Edit
At Ohio State University, Mangold was a three-year starter, taking over for injured Alex Stepanovich in his sophomore year, and earned All-Big Ten honors as both a senior and junior.
Professional career
Edit
2006 NFL Draft
Edit
After a "tremendous performance" at the 2006 Senior Bowl,[1] Mangold was widely regarded as the top center available in the 2006 NFL Draft, ahead of 2005 Outland and Rimington Trophy winner Greg Eslinger.[2][3][4] He was selected in the first round (29th overall) by the New York Jets, which had already used their No. 1 pick on offensive tackle D'Brickashaw Ferguson in an effort to rebuild their offensive line. It marked the first time that a team drafted two offensive linemen in the first round since the 1975 NFL Draft, when the Los Angeles Rams took Dennis Harrah and Doug France.[5] Mangold was the only center picked in the first round of the 2006 NFL Draft, and the highest Ohio State Buckeye center selected since Gordon Appleby went 26th overall in 1945.
Pre-draft measureables
Ht
Wt
40-yd dash
10-yd split
20-yd split
20-ss
3-cone
Vert
Broad
BP
Wonderlic
6 ft 3 1⁄2 in
300 lb
5.05 s
1.72 s
2.95 s
4.40 s
7.48 s
27 1⁄2 in
8 ft 8 in
24 rep
All values from NFL Combine[6]
New York Jets
Edit
Mangold at a June 2009 Jets mini-campReplacing Kevin Mawae at center, Mangold had a good rookie season, allowing only 0.5 sacks, committed only 3 penalties and made all the line calls. Mangold was considered to be the best prospect at center in the last 15 years according to NFL draft expert Mike Mayock.[citation needed] Mangold was so impressive he garnered some Rookie of the year talks,[7] an honor that is not usually mentioned about centers.
Mangold has been a Pro Bowl selection in 2008 and 2009, and has been part of an offensive line that has started the same players for 32 games—the longest current streak among NFL offensive lines—it is regarded as one of the league's best in run blocking.[8] In 2010, Mangold wanted to restructure his contract with the team however he was admittedly disappointed with pace of the contract talks.[9] On August 24, 2010, Mangold signed a seven-year $55 million contract with $22.5 million guaranteed.[9] By signing this contract, Mangold becomes the highest paid center in the NFL.[9]
Mangold was born to Vernon and Therese Mangold.[10] Mangold is the oldest of four children as he has three sisters, Kelley, Holley and Maggey.[10] Mangold's sister, Holley, was an offensive lineman for the Alter High School Football Team.[11] The team was state runner-up in 2006, and won the state championship in 2008 and 2009.
He hails from the same hometown as fellow Ohio State alums Mike Nugent and A. J. Hawk.[12] Mangold and Nugent were later teammates on the New York Jets. Mangold married Jennifer Richmond, his high school sweetheart, in April of 2007, and they currently live in Chatham, NJ.[12] Mangold has participated in various charitable events throughout his career.[12]
Mangold appeared on the Wrap Up Show on Howard100 after the broadcast of the Howard Stern Show on April 30, 2009.
External Links
Edit
Ad blocker interference detected!
Wikia is a free-to-use site that makes money from advertising. We have a modified experience for viewers using ad blockers

Wikia is not accessible if you've made further modifications. Remove the custom ad blocker rule(s) and the page will load as expected.