Robert Wood Johnson IV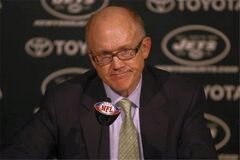 Birthname:
Robert Wood "Woody" Johnson
Birthplace: April 12 1947 in New Brunswick, New Jersey
Currently resides in: New York, New York
Occupation: New York Jets team owner, business executive, philanthropist
Religion: Christian
Family
Spouse(s): Nancy Sale Johnson (Rashad, 1977-2001)
Suzanne Ircha Johnson, 2009-present
Children: Casey Johnson (1979-2010)
Jamie Johnson (filmmaker) (b. 1982)
Daisy Johnson (b. 1987)
Robert Wood Johnson V (b. 2006)
Jack Wood Johnson (b. 2008)
Education
Education: BA, Business, Univ. of Arizona, 1969
Robert Wood "Woody" Johnson IV (born April 12, 1947) is an American businessman and philanthropist. He is the current owner of the New York Jets of the National Football League.[1][2]
Early life
Edit
The great-grandson of Robert Wood Johnson I, the co-founder of Johnson & Johnson Products, Johnson was born in New Brunswick, NJ.. His father, Robert Wood Johnson III, was president of Johnson & Johnson for four years, and his mother was Betty Wold Johnson. Johnson grew up with four siblings: Keith Johnson, Billy Johnson, Elizabeth "Libet" Johnson, and Christopher Wold Johnson. He graduated from the Millbrook School in New Brunswick and the University of Arizona[3]
Johnson purchased the Jets from the estate of Leon Hess for $635 million in 1999.

Johnson became involved in charitable organizations full time in the 1980s. He is a member of the Council on Foreign Relations. His family has been affected by both lupus and juvenile diabetes, which motivated Mr. Johnson to take a role in raising funds to prevent, treat, and cure autoimmune diseases. He has led efforts on Capitol Hill and at the National Institutes of Health to increase research funding for lupus, diabetes, and other autoimmune diseases.[4]
References
Edit
Ad blocker interference detected!
Wikia is a free-to-use site that makes money from advertising. We have a modified experience for viewers using ad blockers

Wikia is not accessible if you've made further modifications. Remove the custom ad blocker rule(s) and the page will load as expected.